25G/50G/100G/200G DWDM Add/Drop Module
The single channel DWDM add drop module is based on our advanced fiber Bragg grating filter technology and has three ports for multiplexing or demultiplexing. One of significances of this DWDM Add/Drop device is flexibility of working wavelength which can be any at ITU grid or customer specified. This device can be used to add or drop any channel signal at any note in a DWDM network system. Our high quality DWDM Add/Drop device shows that it is ideal component for 100GHz,50GHz and 25GHz DWDM system applications.
Applications
DWDM Optical System
Add/Drop modules
CATV systems
Testing and Lab research
Fiber Instrumentation
Fiber Sensor
Biomedical application
Specifications
Parameter
25G
50G
100G
Center Wavelength (nm)
S,C,L band ITU grid (or customer specify )
Pass Band (nm)
<= 0.2
<=0.4
<=0.8
Isolation (dB)
> -25
Wavelength accuracy(nm)
+/- 0.05
Insertion Loss (dB)
<= 1.5
Fiber Type
Corning SMF-28E ( or customer specify)
Package Size(mm)
100 x 65 x 14 (length x width x height)
Operation Temperature(oC)
0 ~ 70
Stoarge Temperature (oC)
-20 ~ +80
Features
Center wavelengths on S, C, L band ITU grid or any customer wavelength
Connector: FC/PC , FC/APC
Customer package is also available
Cost effective
Model number: OEWAD-200 for 200GHz DWDM Add/Drop Module
OEWAD-100 for 100GHz DWDM Add/Drop Module
OEWAD-050 for 50GHz DWDM Add/Drop Module
OEWAD-025 for 25GHz DWDM Add/Drop Module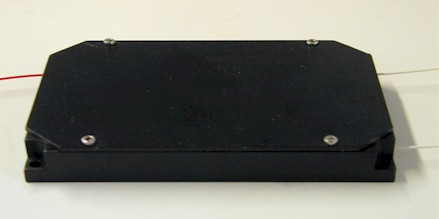 We have unbeatable low price for this product.
Note: All specifications are subject to change without notice
Go back